The U.S. team came to these Pan American Games on a mission of securing an Olympic qualifying spot for the 2016 Rio Olympic Games. The U.S. team put in spectacular rides, in extremely hot weather, to earn their winning not only for the Olympic Rio spot, but also the team Gold and individual Gold by Steffen Peters at this week's Pan Am Games in Toronto. The four riders—Sabine Schut-Kery, Kimberly Herslow, Laura Graves and Steffen Peters completed their mission by winning the team competition on a combined score of 460.50. Canada took silver with 454.93 points, and Brazil earned bronze (414.89).
We want to congratulate all the teams who competed and rode so well with excellent scores and lots of strong competition from Canada and South America…."To be at the Pan Am Games was really a wonderful experience watch so many good rides from the South American and Canadian competitors that we don't get enough opportunity to see" Angela Slater, founder of Grand Meadows
Only one team from North America can qualify for the Olympics – It doesn't seem fair does it? Steffen Peters commented: "Thanks for my teammates who did a fantastic job and brought the score along," said Peters. "I was worried when the Canadians did such an extraordinary job on Saturday. I sat down and said to myself, 'What if we can't go to the Olympics?' I felt bad for a moment, and then I thought, my gosh, that's the situation the Canadian riders are in now.' I'm just hoping in the future that the FEI changes the rules, and that two teams from the Americas get to go to the Olympics. The rules need to change, and I'm hoping we see Canada at the Olympics in 2020."
The Canadian squad; Brittany Fraser on All In, Christopher Von Martels on Zilverstar, Megan Lane on Caravella and Belinda Trussell on Anton certainly did not shed any tears and were riding high off some of their own personal best rides and high scores they all earned at the Pan Am Games.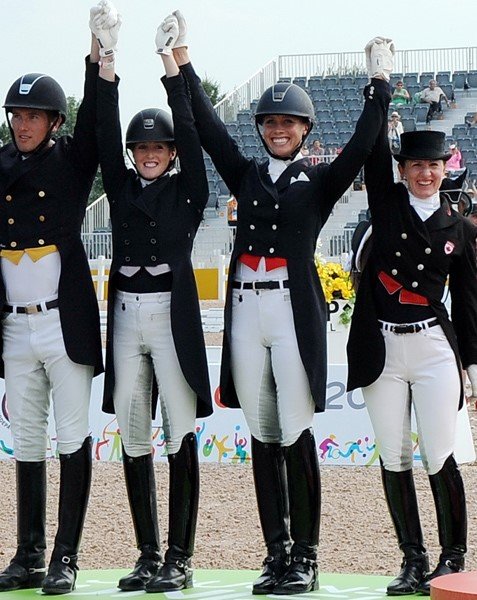 "In my very long life being in international dressage sport, this was for me the real highlight," said a visibly emotional Canadian coach Volker Moritz. "I'm very grateful to my riders for all eight performances; they had all clear, personal bests by far. They rode fantastic, and that made me so happy and so proud."
Of all three teams, Brazil was the most visibly excited on the podium, with Sarah Elizabeth Waddell, who rode Donelly 3, doing a little dance before jumping up. The four riders (Waddell, Leandro Aparecido da Silva on Di Caprio, Joao Victor Marcari Oliva on Xama Dos Pinhais and Joao Paulo dos Santos on Veleiro Do Top) had to fight for their own medal over Mexico, who finished a close fourth with 412.46, and they didn't have the benefit of a big tour score coefficient.
"We didn't have the stress here to have a place on the podium to get an Olympics place, since we're hosting the next games, but Brazil is not the biggest nation in dressage," said Waddell. "Coming here and being with the U.S. and Canadian team with riders—who are seventh and eighth in the world—to us, that's a big deal. We had a long journey to get here, both from the qualifications and the trip and everything and still succeeded."