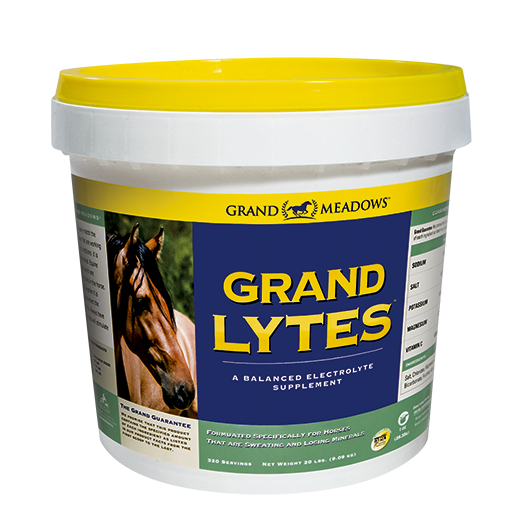 Grand Lytes
Formulated for:
Horses that are losing minerals
Sweating
Grand Lytes A Balanced Electrolyte Supplement Formulated for:
Horses that are losing minerals
Sweating
| | |
| --- | --- |
| Weight | 3.75 lbs |
| Size | 5 lb., 10 lb., 20 lb. |
REVIEWS
"At age 31, Cassius would not have been able to compete at Prix St. George without Grand Flex Senior. I started feeding him Grand Flex when he was only 10 – I've been a Grand Meadows loyal customer for over 20 years. Grand Flex and Grand Flex Senior have attributed to Cassius's soundness and extend the useful years of all my horses' lives."
~Susan Peacock USDF Certified Grand Prix Dressage Trainer
---
"E.S.Waterford, a Champion Hanoverian stallion, and almost a senior, and still going strong, has stayed healthy and sound with a lovely shiny coat. Grand Meadows supplements round out his complete nutritional care and keep him a happy, healthy horse we can ride and enjoy!"
Lynn McEnespy Waterford is rated in the top 10 of all warmblood stallions in the World Sporthorse Breeding Federation.
---
"Smokey turned 30 last month and is still going strong. This afternoon she is giving two of my grand daughters another riding lesson. The Grand Flex Senior is keeping her joints healthy and pain free. She enjoys being treated like "My Little Pony" by the girls and ridden all over the farm!
Misty Hollow Paint Horses
---