Grand Calm Paste
A Horse Calming Paste Supplement that Helps Maintain Calmness and Attentiveness
For Behavioral Problem Management
Maintains Focus
Drug-Free
Non-Herbal
Does Not Test
All ingredients are exempt from any FEI restrictions and meets competition requirements.
Description
Calming Formula for horses that are:
Nervous • Inattentive • Spooky
There are, as is the case with so many categories in the equine supplement marketplace, an ever expanding range of horse calming supplement choices for the horse owner trying to address behavioral challenges with their horse(s).
How can one decide which direction to take?
Certainly the best initial direction is to look for a product that is NASC (www.nasc.cc) Certified.
Can you read and understand clearly the active ingredients and at what levels they are delivered in a serving?
Lastly it is about looking into the ingredients that are disclosed. In Grand Calm we have used 3 ingredients that we believe, and it has certainly been confirmed through testimonials, offer the solution to what can be a frustrating and often misunderstood problem. Magnesium and Thiamine have been quite well documented as helping to promote relaxation but their inclusion does not make Grand Calm unique in this category. We had read a lot of interesting research on L-Theanine and used it in our dog product, Grand Tranquility. We received so much positive feedback that, on deciding to introduce an equine product, we knew that we had found an ingredient that worked exceptionally well.
L-Theanine is actually derived from the Camellia Sinensis or in layman's terms tea. Ask any Englishperson what is the first thing they do when there is a crisis to try to stay calm and it is to make a pot of tea.
Grand Calm offers  a synergistic approach and is also extremely affordable compared to the Perfect Prep™ products which provide extremely limited label information claiming "proprietary" formulas.
See How Grand Calm Compares to the Perfect Prep™ Products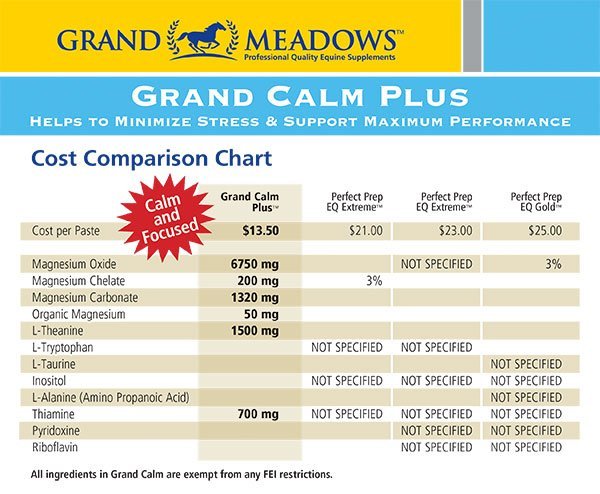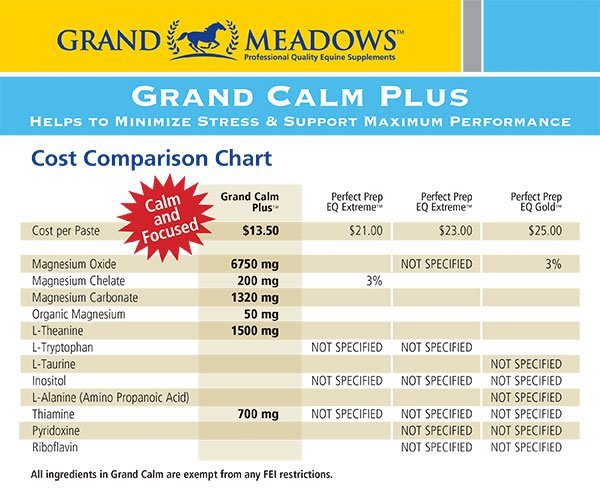 Riding and preparing your horse for a casual trail ride, exercise and training, or participating in a show should be fun for you and your horse. A hard to handle, spooky, stressed out horse will quickly ruin your enjoyment and affect the outcome of your ride or performance.
Grand Calm is a unique calming supplement that is drug-free and non-herbal. The formula contains 3 different sources of magnesium that provides maximum bio-availability which broaden the effects of the magnesium. The formula also includes the amino acid Theanine which is well documented as an aid to relaxation. Grand Calm will help control nervousness in horses that are tense, spooky and inattentive.
All ingredients are exempt from any FEI restrictions.
Over 6,000 mg of Magnesium
3 sources of Magnesium
1,500 mg Theanine
700 mg Thiamine
Palatable Paste
Grand Calm Plus™ is an easy way to help keep your horse calm and relaxed.
We recommend using the Grand Calm Pellets for horses that have consistent behavioral problems on a daily basing and the Grand Calm Paste can be used for incident specific circumstances such as trailering, shows etc.
Ingredients
Paste (Syringe) Product Facts • Per 60cc. dose
Reviews (4)
Only logged in customers who have purchased this product may leave a review.
Related products