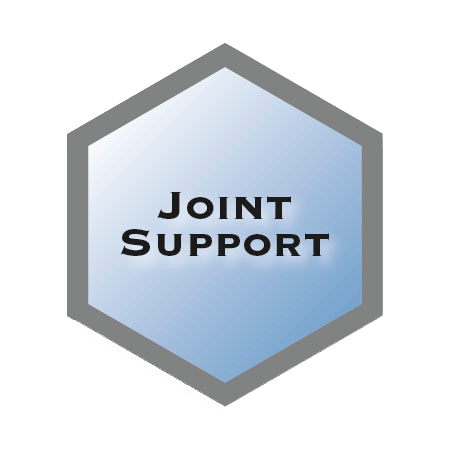 The Science behind Horse Joints. Whether you have a backyard companion or an international competitor, you've invested a lot of time, energy and effort to keep your horse in optimum health for peak performance. Horses are natural-born athletes, yet we ask them to do a lot that their bodies weren't built for. Training and competing in any discipline demands much more of our horses' joints and bodies.
Circles, lateral moves, slide stops, pivoting, and jumping are among the activities that can increase your horse's risk for developing a wide range of problems. The right joint supplement for horses is critical to reducing the risk of these problems. It can help protect your investment and, equally important, keep your horse comfortable while doing all that you ask of him; now and for the long haul .
The correct levels of essential joint support ingredients are the key to choosing the right supplement, but before we talk about what's in the bottle, let's talk about what's in the joint.
How Horse Joints Work
Whatever the species, the basic structure and function of all mammalian joints is similar in that articular cartilage covers and protects the ends of the bones. This cartilage provides a smooth, low-friction gliding surface, allowing free movement of the joint. Articular cartilage is made up of water, collagen and a complex group of proteins called Proteoglycans which consist of hyaluronic acid and long chains of Glycosaminoglycans, often referred to as "GAGs". Proteoglycans trap and hold water, forming a cushion of dense fluid at the ends of the bones that enables movement and absorbs shock when the joint bears weight.
Articular cartilage has no blood supply. It is solely dependent on another joint component, synovial fluid, to deliver vital components and act as a lubricant and cushion between the bones. Age and work degrade the quality of the synovial fluid, which in turn diminishes the quality of the articular cartilage. The joint then loses its protection against friction, concussion, and the invasion of destructive inflammatory cells.
Why Feed A Joint Supplement?
High-quality joint supplements are a great way to help support your horse's defense against the degenerative process. Starting this program before your horse shows any sign of joint discomfort is the best way to prolong joint health and the peak performance that comes with it.
Microscopic activity is going on in our horses' joints every day, no matter what he's doing. Healthy, well-formed and unstressed joints naturally maintain a fragile and complex balance between breakdown and repair of components. Imbalances can occur when the joint is physically stressed by work, an injury or age triggering an increased demand for joint-building components that outstrips the natural supply. This can lead to the progressive deterioration of joint cartilage, bone and soft tissues.
Glucosamine, chondroitin sulfate and hyaluronic acid are substances that are naturally produced by the horse. Providing more of these joint components in a supplement gives your horse the quantities needed to help offset the imbalances caused by the daily wear and tear that occurs in any training regimen. Controlled studies show that specific oral joint ingredients can give you the proactive advantage in supporting healthy joint cartilage, tendons and tissues.(9)
Understanding The Labels
Research Articles For Our Products
At Grand Meadows, all our formulas are backed by science and research. For further reading, review the research articles below.
Wright IM. Oral equine supplements; a review of their potential application in the horse. Equine Vet Educ 2001; 13:135-139
Kelly GS. The role of glucosamine and chondroitin. Alt Med Rev 1998, 3:27-39
Trumble RN. The use of nutraceuticals in the horse. Vet Clin North Am Equine Pract. 2004; 34:7-38
Palmer JL, Bertone AL. Joint structure, biochemistry and biochemical disequilibrium. Equine Vet J 1994; 26:263-277
Brama PA, TeKoppele JM, Bank RA, et al. Influence of site and age on biochemical characteristics of the collagen network of equine articular cartilage. Am J Vet Res 1999, 60:341-345
Russell AS, Aghazadeh-Habashi A, Jamali F. Active ingredient constituency of commercialy available glucosamine sulfate products. J Rheumatol 2002;29:2407-2409
Zhou JZ, Waszkuc T, Mohammend F. Laboratory validation of a method to determine glucosamine levels of glucosamine HCL, and glucosamine sulfate. J AOAC Int 2004;87:1083-1092
Du J, White N, Eddington ND. The bioavailability and pharmacokinetics of glucosamine hydrochloride and chondroitin sulfate after oral and intravenous singe dose in the horse. Biopharm Drug Dispos 2004;25:109-116
Forsyth RK, Brigden CN, Northrop AJ. Double blind investigation of the effects of oral supplementation of combined glucosamine hydrochloride (GHCL) and chondroitin Sulfate (CS) on veteran horses. Equine Vet J Suppl 2006;36:622-625
JP Caron -Intra-articular injections in horses. The Veterinary clinics of North America.Equine
D Platt-The role of oral glucosamine and HA. Equine Veterinary Education, 2001
Steffen Oesser, Jurgen Seifert. Stimulation of Kolla2, type II collagen biosynthesis. DOI 10 Cell Tissue Res, 2003;311:393-399
Jennifer Gu, Ph.D. Patented Kolla2 UnHydrolyzed pure collagen type II, patented matrix of hyaluronic acid, chondroitin sulfate and GAGs. Nutra , 2008
Western Ontario and McMaster Universities. Collagen ingredients beats glucosamine, chondroitin for joint health. Nutra, 2008