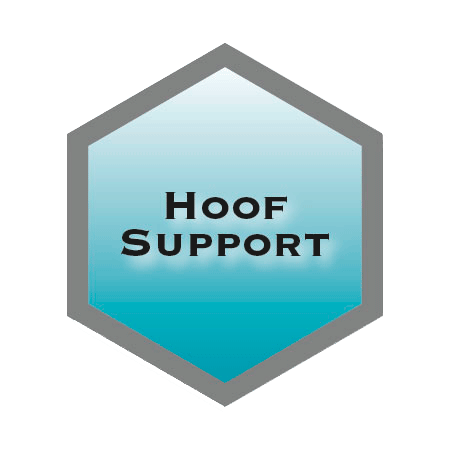 Problems with your horse's hooves?
Are you tired of losing shoes, dealing with crumbly hoof walls, quarter-cracks, tender and sore hooves?
A horse's hoof must receive nutrients from the blood in order to stimulate growth and repair. The building of a healthy hoof is crucial to keeping your horse sound and performing at its best. Let's look at the science behind the Horse Hoof.
About Horse Hoof Support
Correct Shoeing and Grand Hoof helped grow and repair this horse hoof crack in less than three months: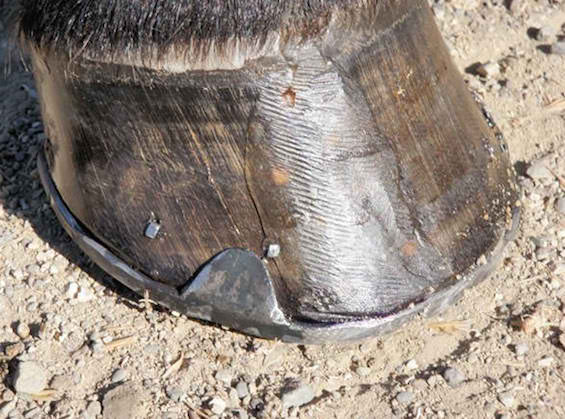 Courtesy of Robert Barnes, Black Iron Farrier Service

Clinical Research Studies
KER, Boosting Hoof Quality with Biotin, 4-2007. Supplementation with biotin at a rate of 20 mg/day showed significant improved hoof quality over 8-15 months.
American Farriers Journal, Diet and the Hoof, 10-2006. Biotin supplemented at 15 mg/day showed cells in the hoof horn to become more resistant to damage.
Stewart, J.H. DVM, BVSc,PhD, Biotin: Improving Hoof Growth and Strength, 3-2003. Research conducted found benefit to 15 mg/day for 6-9 months for improvement of strength and conformation of the hoof wall. 3 mg per day maintained improvement.
Crandell, K, Pagan, J.D. Advances in Equine Nutrition. 2001. Though biotin is synthesized in the intestine, certain horses with poor-quality hooves respond positively to biotin supplementation for improved healthy hooves.
David M. Hood, DVM, PhD, Demands of Equine Foot Function and Hoof Growth Require Proper Nutrition. Department of Veterinary Physiology & Pharmacology Texas A&M University.
Black, et al. Equine Vet J. 1995. Examined the hooves of 85 horses all supplemented with biotin for at least one year. They found supplemented horses on 12 mg biotin/day all showed better appearance of new horn near the coronary band after 3-6 months and significant improvement after 8-15 months.
Swenson, Connie K. PhD. Trace Minerals Important in Equine Hoof Nutritional Health. Research Nutritionist at Montana State University.
Moyer, William, DVM, Farrier. What You Don't Know About Hooves. Department of Veterinary Physiology & Pharmacology Texas A&M University.
Josseck H, Zenker, W., Geyer, H. Hoof Horn abnormalities in Lippizaner horses at the Spanish Riding School Study. The effect of dietary biotin on macroscopic aspects of hoof horn quality. Equine Vet J. 1995. Study undertaken because hoof quality of these famous horses had deteriorated badly with crumbling walls, a soft and wide white line area and thin, cracked soles. For over two years, 26 stallions received 15 mg daily biotin, 16 horses received a placebo. Hoof quality began to improve after 6-9 months in the supplemented horses. Less hoof cracks and less crumbling of the hoof horn was obvious. Improved hoof condition continued throughout he remainder of the two year study for the supplemented horses, while the placebo group remained unchanged.
Reilly, J.D., Cottrell, D.F. Martin, Cuddeford, D.J. Effect of supplementary biotin on hoof growth rate. Equine Vet J. 09-98. Biotin supplementation produced a significantly higher growth rate of hoof horn with treated horses showing a 15% increased growth rate of hoof horn after 5 months of supplementation with biotin.
Geyer H, Schulze J. The long-term influence of biotin supplementation on hoof horn quality in horses. 1995 Institute of Veterinary Anatomy, University of Zurich. The influence of dietary biotin in horses with brittle hoof horn and chipped hooves was investigated in a long-term study, which was performed over a period from one to six years. 97 horses received 5 mg of biotin per 100 to 150 kg of body weight, daily; 11 horses were not supplemented with biotin and served as controls. The hooves of all horses were evaluated macroscopically every three to four months. Hoof horn specimens of the proximal wall were examined histologically and physically in 25 and 15 horses, respectively. The tensile strength of normal coronary horn was 60 N/mm2 or greater; it was reduced in areas of histological alterations, the lowest value being 20 N/mm2. The hoof horn condition of the biotin-supplemented horses improved after eight to 15 months of supplementation as determined by macroscopic and histologic examinations. The hoof horn condition of most control horses remained constant throughout the study. The growth rate of the coronary horn of horses supplemented with biotin and of control horses was the same. The hoof horn condition deteriorated in 7 of 10 horses after biotin supplementation was reduced or terminated. It was concluded that biotin should be continuously supplemented at the full dosage in horses with severe hoof horn alterations.
E.A. Buffa, S.S. Van Den Berg, Effect of dietary Biotin Supplement on Equine Hoof Horn Growth Rate and Hardness. Over a 10-month period, 24 randomly selected riding horses were selected and fed various amounts of biotin. Significant improvements in growth rates and hardness of hooves were produced by biotin supplementation. Greater growth rates and hardness were achieved at a daily does of 15 mg than at 7.5 mg. Increased hoof hardness was greatest in the hoof quarters and toe.