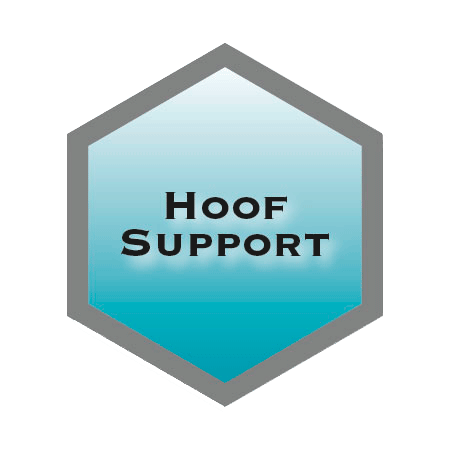 Problems with your horse's hooves?
Are you tired of losing shoes, dealing with crumbly hoof walls, quarter-cracks, tender and sore hooves?
A horse's hoof must receive nutrients from the blood in order to stimulate growth and repair. The building of a healthy hoof is crucial to keeping your horse sound and performing at its best. Let's look at the science behind the Horse Hoof.
About Horse Hoof Support
The wall of the hoof is a dermal tissue, much like the skin and hair. Dermal tissue is considered an organ, and is one of the hungriest when it comes to nutrients. Many of the necessary nutrients are ingested and processed naturally by horses on a balanced diet. However, most horses' hooves can be made much stronger with correct supplementation.
Biotin is not just the magic answer – what do hooves really need to be strong? Contrary to popular opinion, biotin is not the magic answer to every hoof problem. Growing healthy hooves is a complex process requiring a complex formula with concentrated, high purity Biotin, Methionine, Lysine, B-6 and the proper ratios of chelated minerals.
More than just Biotin
The protein structure of the hoof is loaded with sulfur-containing amino acids necessary for healthy hoof growth. MSM and methionine are organic sources of important sulfur bearing nutrients that stimulate the production of keratinous tissue in the hoof wall development. Methionine is necessary for keratinization of the hoof wall and both MSM and methionine work as vasodilators to expand blood vessels vital for nutrients to enter the small capillaries inside the hoof.
Studies and field testing on horses with hoof problems have shown noticeable improvements when supplemented with biotin and methionine. First you'll see a new healthier band of hoof growth directly below the coronary band normally within 6-8 weeks. Remember – it takes 3 to 6 months for solid improvement and nine months to a year for the hoof to completely grow out.
Don't be fooled that more is better! Many companies use a diluted 1% feed grade, triturated form. We tested a number of popular brands with high biotin claims and found actual ingredients didn't come close to matching their label claim. In all of the research conducted 15-20mg of Biotin has been used and, as it is a water-soluble vitamin, excessive amounts will simply be excreted making very expensive urine. Remember, all Grand Meadows nutrients are pre-tested prior and after blending to insure accurate levels and label claims.
Biotin is a B-Vitamin that stimulates keratin production in the hoof's laminae and coronary band; strengthening and improving the periople, hoof wall, sole, frog and white line, minimizing weak walls and cracks and protecting the exterior hoof wall from moisture damage.
MSM & Methionine are sulfur-bearing nutrients that increase the delivery of hoof building nutrients and supports the connective tissues inside the hoof wall. Both MSM and methionine work as vasodilators, expanding blood vessels vital to circulating nutrient rich blood into the small capillaries inside the hoof.
Lysine is an essential amino acid closely linked to Methionine and plays an important role in efficient protein synthesis, upon which growth, development and almost every bodily function depends. More than any other amino acid, Lysine is usually deficient in most equine diets and important to supplement especially to growing young horses whose requirements are even higher.
Copper is needed for bone, cartilage and elastin formation and the utilization of iron. Copper also improves pigmentation and the structure of the hair and hoof.
Vitamin B-6 (as Pyridoxine) aids in protein metabolism and the RNA and DNA synthesis necessary for cellular reproduction.
U.S.
Look for FDA-approved manufacturing facilities. All Grand Meadows Products are manufactured in an approved FDA manufacturing facility located in California and have earned exceptional marks from the NASC (National Animal Supplement Council) for our high quality control and manufacturing processes thus ensuring safe, pure, potent and effective products.
U.K.
Just as with the US, all Grand Meadows Products are manufactured in an approved FDA manufacturing facility located in California and have earned exceptional marks from the NASC for our high-quality control and manufacturing processes, thus ensuring safe, pure, potent, and effective products.
Correct Shoeing and Grand Hoof helped grow and repair this horse hoof crack in less than three months:
Courtesy of Robert Barnes, Black Iron Farrier Service

Clinical Research Studies
KER, Boosting Hoof Quality with Biotin, 4-2007. Supplementation with biotin at a rate of 20 mg/day showed significant improved hoof quality over 8-15 months.
American Farriers Journal, Diet and the Hoof, 10-2006. Biotin supplemented at 15 mg/day showed cells in the hoof horn to become more resistant to damage.
Stewart, J.H. DVM, BVSc,PhD, Biotin: Improving Hoof Growth and Strength, 3-2003. Research conducted found benefit to 15 mg/day for 6-9 months for improvement of strength and conformation of the hoof wall. 3 mg per day maintained improvement.
Crandell, K, Pagan, J.D. Advances in Equine Nutrition. 2001. Though biotin is synthesized in the intestine, certain horses with poor-quality hooves respond positively to biotin supplementation for improved healthy hooves.
David M. Hood, DVM, PhD, Demands of Equine Foot Function and Hoof Growth Require Proper Nutrition. Department of Veterinary Physiology & Pharmacology Texas A&M University.
Black, et al. Equine Vet J. 1995. Examined the hooves of 85 horses all supplemented with biotin for at least one year. They found supplemented horses on 12 mg biotin/day all showed better appearance of new horn near the coronary band after 3-6 months and significant improvement after 8-15 months.
Swenson, Connie K. PhD. Trace Minerals Important in Equine Hoof Nutritional Health. Research Nutritionist at Montana State University.
Moyer, William, DVM, Farrier. What You Don't Know About Hooves. Department of Veterinary Physiology & Pharmacology Texas A&M University.
Josseck H, Zenker, W., Geyer, H. Hoof Horn abnormalities in Lippizaner horses at the Spanish Riding School Study. The effect of dietary biotin on macroscopic aspects of hoof horn quality. Equine Vet J. 1995. Study undertaken because hoof quality of these famous horses had deteriorated badly with crumbling walls, a soft and wide white line area and thin, cracked soles. For over two years, 26 stallions received 15 mg daily biotin, 16 horses received a placebo. Hoof quality began to improve after 6-9 months in the supplemented horses. Less hoof cracks and less crumbling of the hoof horn was obvious. Improved hoof condition continued throughout he remainder of the two year study for the supplemented horses, while the placebo group remained unchanged.
Reilly, J.D., Cottrell, D.F. Martin, Cuddeford, D.J. Effect of supplementary biotin on hoof growth rate. Equine Vet J. 09-98. Biotin supplementation produced a significantly higher growth rate of hoof horn with treated horses showing a 15% increased growth rate of hoof horn after 5 months of supplementation with biotin.
Geyer H, Schulze J. The long-term influence of biotin supplementation on hoof horn quality in horses. 1995 Institute of Veterinary Anatomy, University of Zurich. The influence of dietary biotin in horses with brittle hoof horn and chipped hooves was investigated in a long-term study, which was performed over a period from one to six years. 97 horses received 5 mg of biotin per 100 to 150 kg of body weight, daily; 11 horses were not supplemented with biotin and served as controls. The hooves of all horses were evaluated macroscopically every three to four months. Hoof horn specimens of the proximal wall were examined histologically and physically in 25 and 15 horses, respectively. The tensile strength of normal coronary horn was 60 N/mm2 or greater; it was reduced in areas of histological alterations, the lowest value being 20 N/mm2. The hoof horn condition of the biotin-supplemented horses improved after eight to 15 months of supplementation as determined by macroscopic and histologic examinations. The hoof horn condition of most control horses remained constant throughout the study. The growth rate of the coronary horn of horses supplemented with biotin and of control horses was the same. The hoof horn condition deteriorated in 7 of 10 horses after biotin supplementation was reduced or terminated. It was concluded that biotin should be continuously supplemented at the full dosage in horses with severe hoof horn alterations.
E.A. Buffa, S.S. Van Den Berg, Effect of dietary Biotin Supplement on Equine Hoof Horn Growth Rate and Hardness. Over a 10-month period, 24 randomly selected riding horses were selected and fed various amounts of biotin. Significant improvements in growth rates and hardness of hooves were produced by biotin supplementation. Greater growth rates and hardness were achieved at a daily does of 15 mg than at 7.5 mg. Increased hoof hardness was greatest in the hoof quarters and toe.