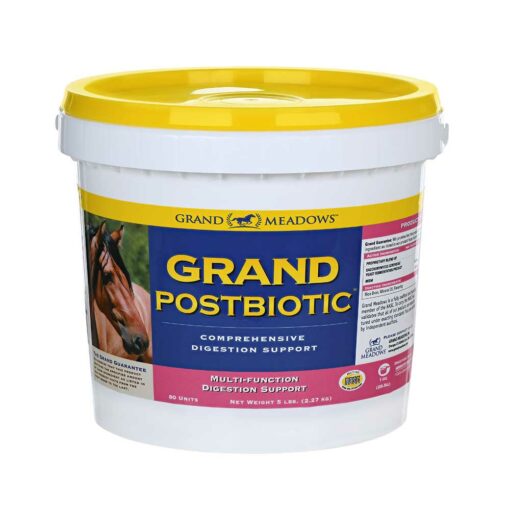 Grand Postbiotic
Grand Meadows introduces a ground-breaking new digestion product for horses
Immune system support
Increase in anti-inflammatory response in joints
Whole body stress reduction
Increase in oxygen levels
Lactic acid recovery times
Increase in density and surface area of intestinal villi
Increased Volatile Fatty Acid production
This Exciting New, Research Proven Ingredient, Dramatically Expands on Existing Digestion Product Capabilities
While Grand Postbiotic digestion supplement for horses will provide excellent, broad based digestion support in a conventional sense, it has been shown to offer multiple additional benefits.
What Are Postbiotics?
Postbiotics are created by the successful combination of both probiotics and prebiotics in the hindgut of the horse. In the case of Grand Postbiotic the exclusive anaerobic fermentation process used to produce the postbiotics results in the production of a very broad spectrum of nutrients affecting a multitude of functions in the horse.
The support of healthy hindgut function hinges on whether there are sufficient probiotics and prebiotics. There have long been questions regarding the shelf stability and activity of probiotics and in other cases there may be a lack of sufficient prebiotics to produce the right balance needed for the production of postbiotics.
Grand Postbiotic mitigates those questions and is completely shelf stable.
| | |
| --- | --- |
| Weight | 5.0 lbs |
| Size | 5 lb, 10 lb, 25 lb |
Only logged in customers who have purchased this product may leave a review.
---