Meet Dani Sussman
It is part of our mission at Grand Meadows to connect the Grand Meadows community with experts in horse training, coaching, riding, wellness, and behavior. We believe these connections make it easier for everyone to learn about horse heath, wellness, and care.
This month we have a feature interview with Dani Sussman. Dani is the owner and operator of Aspire Eventing in Larkspur, Colorado. Dani is a seasoned rider, coach, trainer, and competitor.
You may have met Dani over the years at a three-day eventing competition or follow her on Instagram and Facebook. Dani's passion for and lifelong affair with horses is why we want you to get to know her. She leads by example with her approach to horse wellness, training, and competition.
We sat down with Dani to learn more about her passion for horses, her approach to training, and what gets her excited about coaching.
Q. How did you get involved with horses and riding?
Dani: I was fortunate enough that my parents, especially my mom, had horses since the day I was born, so it was a natural obsession. In fact, my mom likes to tell the story that the first time I was on a horse I was three days old. Mind you, this probably would be frowned upon now but basically, I was born on a horse!
The real start to my riding, though, was when I joined Pony Club at 10. I would definitely say that Pony Club is what shaped my riding, my passion for eventing and my basis for horsemanship. I remember my first "D" rally and coming off cross country and wanting more and more!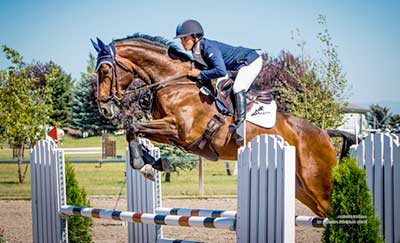 Q. Can you tell us why you're so passionate about three-day eventing?
Dani: Eventing is such an intense sport combining the elegance of the dressage, the thrill of cross country and the accuracy of show jumping. I think first and foremost what draws anyone to eventing is being an adrenaline junkie. Truly, there is no better feeling than a fast and clean cross-country round! Beyond the adrenaline, I think the type A personality kicks in. It is a lifelong journey to be better and better at all three disciplines.
Q. Do you have a standout memory from an event?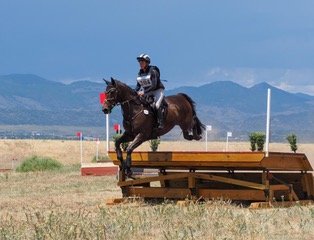 Dani: I would say one of my fondest memories of an event is being at Hagyard and competing Thurston B Howell and having my best friend, Alison Smith, there to watch. There truly is nothing more special than having an amazing support system behind you.
Q. How did you get started with horse training?
Dani: Oddly enough, Pony Club groomed me, so to speak, for becoming a professional. I taught all through my years in Pony Club and in college but never dreamed it was actually going to become my profession. My degree is in chemical engineering, so clearly a full-time horse career wasn't in my plans.
It wasn't until I was in Palo Alto, CA post college working with the local Pony Club there that one thing led to another and I had a full-fledged business in place before I realized what was actually taking shape. My husband and I sat down and said, "why not make this legit" and we did. That was 19 years ago.
Q. What excites you about being a horse coach and trainer?
Dani: There are so many layers of being a coach and trainer. I joke with my clients all the time that I moonlight as a vet, psychiatrist, therapist, physician, psychoanalyst, and school psychologist. While I have certainly worn all of these "hats", I truly enjoy watching and helping my clients reach their goals, whether it be jumping their first cross rail or competing at their first FEI event.
I possibly get more nervous and more excited watching my clients compete than I do myself. This really surprised me the first time I felt this. I love to compete, I love to learn, and I love the drive to be better each day. I hope I instill this in my clients.
Q. Can you tell us a bit about your philosophy towards horse care and injury prevention?
Dani: Horse care and injury prevention… Dream up unlikely scenarios and prevent them from happening. In reality, this takes my entire team of ladies who work for me. I have stressed to them that they are my eyes and my hands. They need to feel and see lumps, bumps, cuts, etc. as I would so I don't have one of them come to me and say "so-in-so has a life-threatening wound" when in reality it is just an abrasion.
I keep my farm as clean and safe as humanly possible in hopes my horses can't dream up ways to hurt themselves. I have my hands and eyes on every horse on the farm daily, whether it be to just groom them or to ride. In addition, I keep meticulous charts on each horse. I document meds they receive, new wounds they have and what we have done to treat them, and everything is dated and initialed by whomever did the treating/medication.
I certainly would say that proper supplementation is key. As with human athletes, adding supplements to help with joint health, digestive health, skin and coat makes a huge impact in how the horse feel and perform. Grand Meadows carries all the supplements that my horses need, and it truly shows in their appearance and feel. My favorites are Grand Premium Plus, Grand Hoof with MSM and Grand Calm Paste.
Q. What do you want the Grand Meadows community to know about horses, horse care, and horse life?
Dani: Horses, in general, are not for the weak or faint of heart. There is more heartache in owning a horse than anyone can imagine, not to mention the cost associated with it. I could sit and describe in excruciating detail all the heartache and horse losses I have endured, but that does nobody any good.
I think that has made me grittier and more determined to reach goals I have set out to conquer. I think a thick skin, a level head and grit are characteristics that envelope great horse people.
Q. What advice do you have for people new to riding?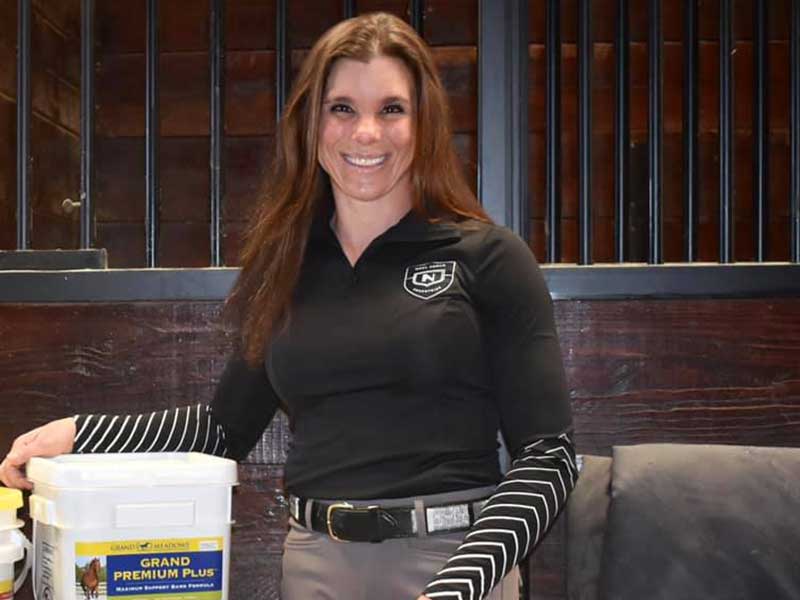 Dani: If you're new to riding, my advice to you is to find a trainer you click with and be involved in their program. They, most likely, have been in the business longer than you and can help steer you on the correct path, including feed, supplements, training and horse care. In addition, ask questions of professionals to learn and soak up as much as you can.
Knowledge is certainly power and the more you know about how to help care for your horse and avoid mistakes, the happier and healthier you and your horse will be.
Q. What is one key message about horses training, coaching, and competing you want to share with horse owners?
Dani: One message about training, coaching and competing is to never stop learning, never stop believing in your clients, and dig deep to find the grit it takes to be the best that you can be but always put your horse above everything else.
Q. What's on your three-day eventing calendar for 2020?
Dani: 2020 has been quite the year, as everyone can agree. We all had plans, changed our plans, changed them again, threw our arms up in the air wanting to quit 2020 and then made more plans. So, for now, my plan is to compete at Holly Hill, Virginia Horse Trials and Tryon this fall.
Fingers crossed this plan comes to fruition and we can all start 2021 with a deep breath and move forward.
And yes, everyone at Grand Meadows agrees – fingers crossed for a great last few months of 2020 and a fresh start in 2021.