So it's that time of year again. Winter. If your not one of the blessed- to have a covered arena or the funds to be bon voyaging to a sunny and mild climate- winter can seriously mess with your regular training regime. If you live North you deal with snow and ice, if you live South you deal with rain and mud. But no matter where you live there are some ways to get the most out of your riding time.
If you are thinking "swimmies" for your horses sound like a good idea it might be time to try some outside of the ring training. Think of all of those puddles around the farm as small opportunities to keep your horse between your aids and control their feet. Start small- the worst thing to do is overwhelm your horse by asking them to cross murky, deep water with an unstable edge. Start by crossing over just the edge – if they side step it, try again. If they want to sniff it, let them, even if they start by testing just one hoof at a time. But be ready for the splashing – some horses really like to play! If they are reluctant to cross even a small puddle you can try having them follow another horse. Students ask me if they can lead them across, I tell them if you can be certain your horse isn't going to want to hitch a ride on top of you! Or land on you when they lunge over it like it was the Liverpool in the Jumper ring.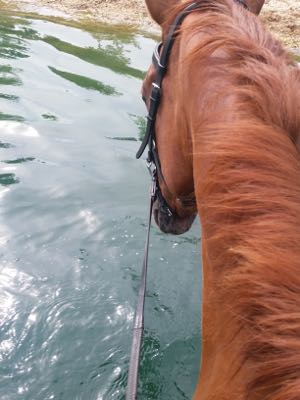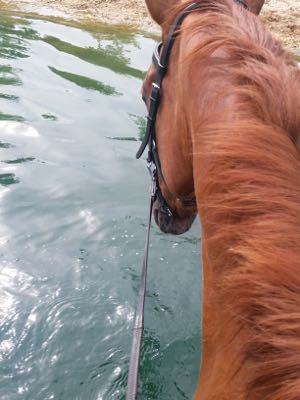 Once your horse gains confidence and figures out the puddles are not horse eating black holes, you can gradually increase the size of the puddles, going to creeks, maybe you will get enough practice to be ready to try those lakes and oceans by spring and summer!
Don't have water? How about snow and ice? Riding outside in the snow can be great fun- try having a small rubber rim pad put on under your horses shoes to keep the ice from forming uncomfortable packs in their feet. Worried about concussion? There are so many exercises you can do at the walk from turn on the haunches to lateral work and transitions to and from halt and in and out of free walk. Winter hacks on the dirt roads and trails in Minnesota and Colorado are some of my fondest memories. There is something so peaceful about a fresh blanket of snow.
Another way I get my horses out is to long line or ground drive them all over the property's roads and drives-which luckily drain well and are not slippery asphalt. It is a really good way to see how your horse is using their body- even at the walk – and practice straightness, equal acceptance of contact and develop lateral work. However, if this is something new for you I would not suggest starting it with a pent-up from no turnout, fresh in the cold with their new clipped hair-do horse. Long Lining takes a lot of practice and should be endeavored first in a small, fenced area and with adult supervision.

And if you are really just over the mud and the ice then you can be productive indoors. That bridle that you have been meaning to take apart and deep clean? Now is your chance. Winters can be hard on tack- wet weather or extreme cold can take a toll. Use this time to deep clean and condition your gear. Clean out your tack trunk. Go through your emergency vet kit. Mend and repair boots, blankets and bandages. Those cobwebs in the tack room? Have at 'em. Get your barn cleared and cleaned of all stuff you may not need for the upcoming year.
A little too "glass half full" for you? Well there is always the warm fire and a good horse book to curl up with. Wishing everyone a productive Winter. And for those of you in sunny south Florida or a nice covered arena…we so don't want to hear about it.